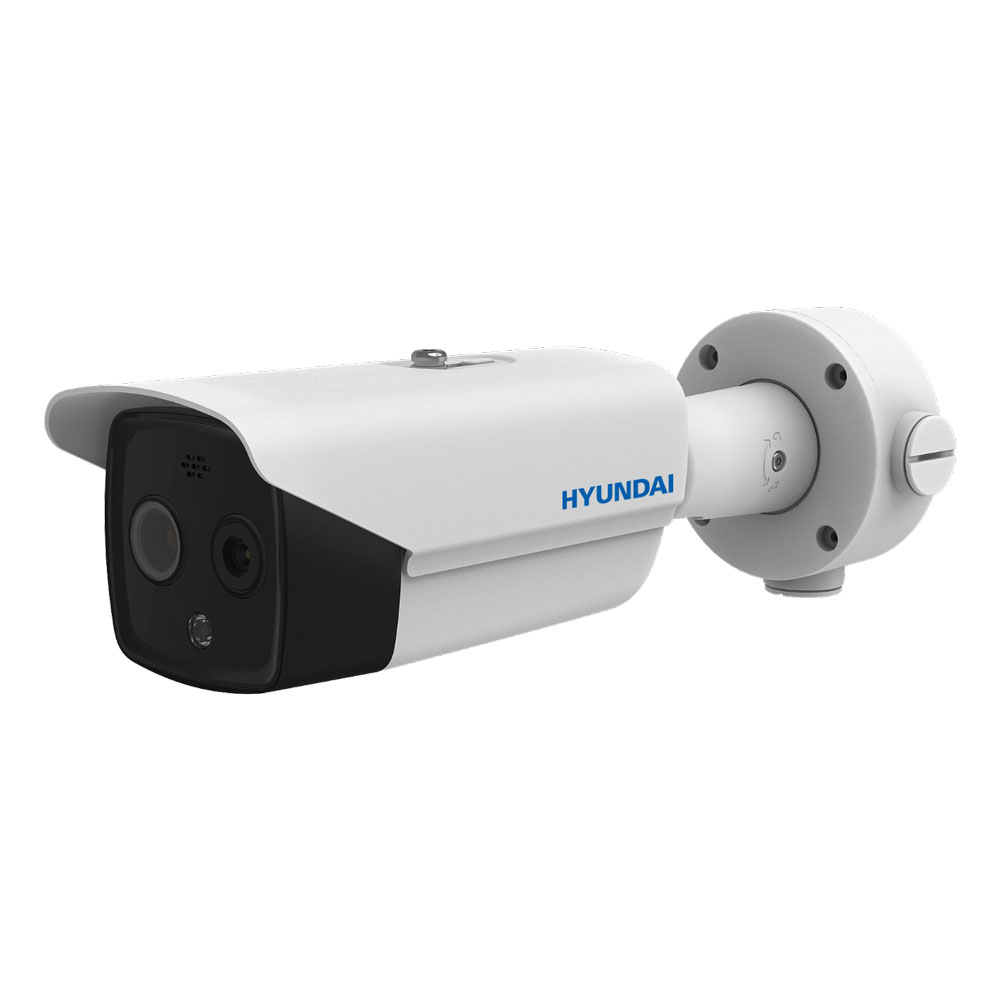 Thermal-Line thermal + visible bullet camera with 40 m IR illumination, for outdoor

HYU-903

HYU-903

Thermal camera

Uncooled Vanadium Oxide FPA (Focal Plane Arrays) Thermal Image Sensor
160x120 thermal resolution (output resolution is 320x240)
Pixel pitch: 17μm
Thermal sensitivity (NETD): ≤40 mk (@ 25 ° C, f / 1.1)
Spectrum range: 8 μm ~ 14 μm
Focal length (thermal): 6.2mm
Viewing Angle (Thermal): 25 ° x 18.7 °
0.6 meter minimum focusing distance
Effective distance in people: Detection (182 m), recognition (46 m), identification (23 m)
Effective distance in vehicles: Detection (559 m), recognition (140 m), identification (70 m)
Visible camera
Image Sensor (Visible Camera) 4 Megapixel 1 / 2.7 Progressive Scan CMOS
Effective pixels: 2688 x 1520
40 meter infrared illumination
0.0089 lux F1.6 (color), 0.0018 lux F1.6 (B / W)
Focal Length (Visible Optics): 8mm
Angle of View (Visible Optics): 39.42 ° x 22.14 °
WDR 120dB
Displays the partial image of the thermal channel on the full screen of the optical channel
Displays the details of the optical channel in the thermal channel
Supports hot white and hot black mode target coloring
Smart features
Support 4 kinds of VCA rules (intrusion, line crossing, region in and region out), maximum 8 rules
Effective ACV distance: 30m (people), 85m (vehicles), 132m (temperature measurement, 2x2m), 66m (temperature measurement, 1x1m), 360m (fire detection, 2x2m), 180 m (fire detection, 1x1 m)
Support 3 kinds of temperature measurement rulers, 21 rulers (10 points, 10 regions and 1 line)
-20 ° C ~ + 150 ° C temperature range
± 8 ° C temperature accuracy
Dynamic fire detection with up to 10 fire detection points
IP communication and integration
Compression formats: H.265 / H.264 / MJPEG
Stream 1 thermal camera: 720P, D1, VGA, QCIF, QVGA (25 ips)
Stream 2 thermal camera: D1, CIF, QVGA (25 ips)
Stream 1 visible camera: 4MP, 1080P, 720P (25 ips)
Stream 2 visible camera: D1, CIF, QCIF (25 ips)
Audio compression: G.711u / G.711a / G.722.1 / MP2L2 / G.726 / PCM
1 self-adaptive 10 / 100M RJ45 port
Protocols: IPv4 / IPv6, HTTP, HTTPS, 802.1x, Qos, FTP, SMTP, UPnP, SNMP, DNS, DDNS, NTP, RTSP, RTCP, RTP, TCP, UDP, IGMP, ICMP, DHCP, PPPoE
Up to 20 simultaneous views
Up to 32 users, 3 levels: administrator, operator, user
Compatibility: ONVIF S / G / T, ISAPI, SDK, and 3rd party management gateway
Compatible with IE11, Chrome57.0 +, Firefox52.0 + browsers
2 alarm inputs / 2 outputs
1 audio input / 1 output
MicroSD / SDHC / SDXC card slot (up to 256 GB), with support for manual or alarm recording
Electrical and environmental
Power: 12V DC (± 20%), PoE (802.3af, Class3)
Consumption: Max. 7.5W (8W PoE)
-40 ° C ~ + 60 ° C operating temperature
Relative humidity: ≤95% (non-condensing)
Degree of protection IP66
6KV Lightning-proof
Physical characteristics
Metal housing
Dimensions: 113.5 (W) x 115.2 (H) x 358.3mm
Weight: 1.76 kg
Includes wall bracket and tube base
Note: The effective distance values ​​shown are nominal values ​​and should be used as an estimate. Consult with your sales representative for the recommended detection distances with our Vaelsys Perimeter System.
Repair services and technical support
No worries: 15 days right of withdrawal
Secure transaction