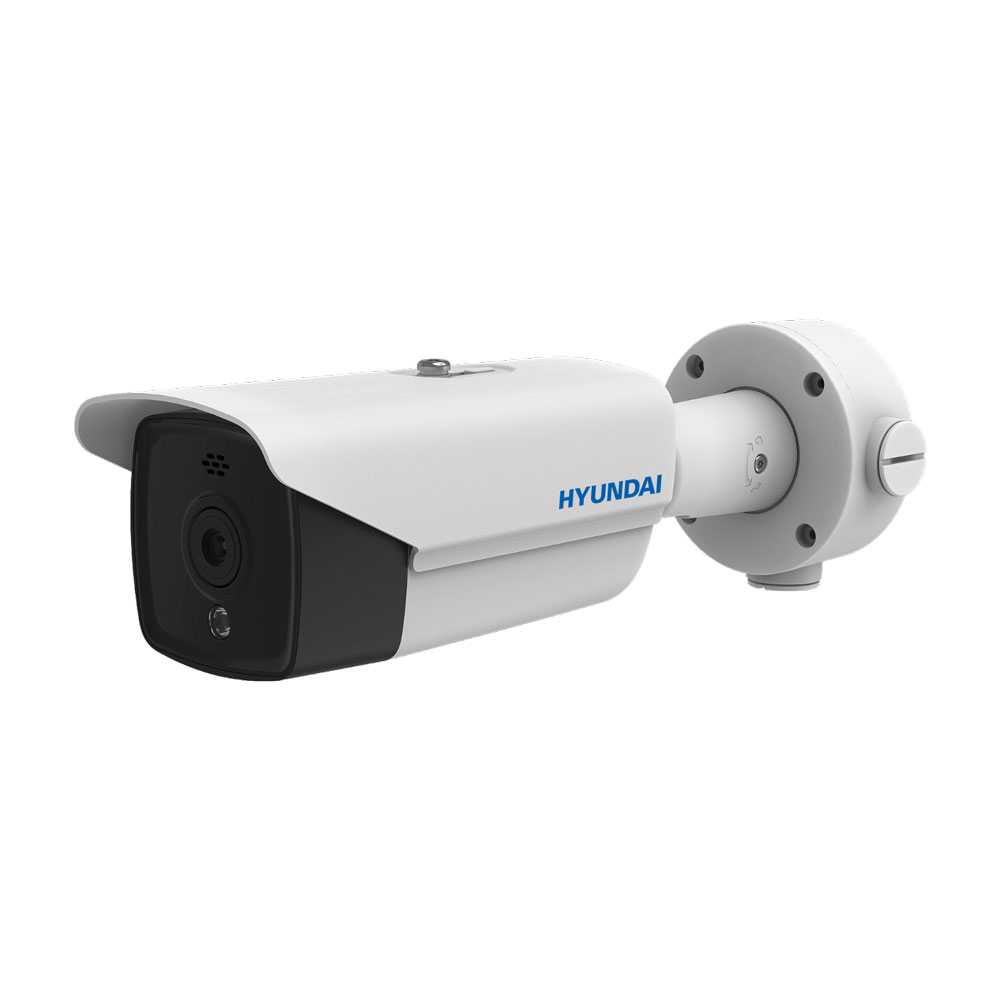 Thermal-Line thermal bullet camera for outdoor use

HYU-905

HYU-905

Thermal camera

Uncooled Vanadium Oxide FPA (Focal Plane Arrays) Thermal Image Sensor

160x120 thermal resolution (output resolution is 320x240)
Pixel pitch: 17μm
Thermal sensitivity (NETD): ≤40 mk (@ 25 ° C, f / 1.1)
Spectrum range: 8 μm ~ 14 μm
Focal length (thermal): 3.1mm
Viewing Angle (Thermal): 50 ° x 37.2 °
0.2 meter minimum focusing distance
Effective distance in people: Detection (91 m), recognition (23 m), identification (11 m)
Effective distance in vehicles: Detection (280 m), recognition (70 m), identification (35 m)
Supports hot white and hot black mode target coloring

Smart features

Supports 4 kinds of VCA rules (intrusion, line crossing, region in and region out), maximum 8 rules

Effective ACV distance: 15m (people), 43m (vehicles), 66m (temperature measurement, 2x2m), 33m (temperature measurement, 1x1m), 180m (fire detection, 2x2m), 90 m (fire detection, 1x1 m)
Support 3 kinds of temperature measurement rulers, 21 rulers (10 points, 10 regions and 1 line)
-20 ° C ~ + 150 ° C temperature range
± 8 ° C temperature accuracy
Dynamic fire detection with up to 10 fire detection points

IP communication and integration

Compression formats: H.265 / H.264 / MJPEG

Stream 1: 720P, D1, VGA, QCIF, QVGA (25 ips)
Stream 2: D1, CIF, QVGA (25 ips)
Stream 3: 720P, D1,, QCIF, QVGA (25 ips)
Audio compression: G.711u / G.711a / G.722.1 / MP2L2 / G.726 / PCM
1 self-adaptive 10 / 100M RJ45 port
Protocols: IPv4 / IPv6, HTTP, HTTPS, 802.1x, Qos, FTP, SMTP, UPnP, SNMP, DNS, DDNS, NTP, RTSP, RTCP, RTP, TCP, UDP, IGMP, ICMP, DHCP, PPPoE
Up to 20 simultaneous views
Up to 32 users, 3 levels: administrator, operator, user
Compatibility: ISAPI, SDK, and third-party management gateway
Compatible with IE11, Chrome41-44, Firefox30-51 browsers
2 alarm inputs / 2 outputs
1 audio input / 1 output
RS485 port
MicroSD / SDHC / SDXC card slot (up to 256 GB), with support for manual or alarm recording

Electrical and environmental

Power: 12V DC (± 20%), PoE (802.3af, Class3)

Consumption: Max. 4.5W (5W PoE)
-40 ° C ~ + 65 ° C operating temperature
Relative humidity: ≤95% (non-condensing)
Degree of protection IP66
6KV Lightning-proof
Physical characteristics

Metal housing

Dimensions: 113.5 (W) x 115.2 (H) x 358.3mm

Weight: 1.71 kg

Note: The effective distance values ​​shown are nominal values ​​and should be used as an estimate. Consult with your sales representative for the recommended detection distances with our Vaelsys Perimeter System.