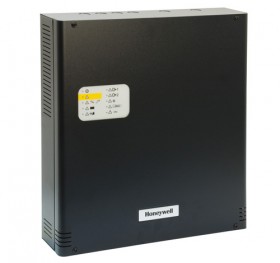 Switching 65W DC 24VDC power supply controlled by microprocessor

NOTIFIER-530

HLSPS25
Features

HLSPS25 65W switched 24VDC microprocessor controlled power supply.
It consists of power supply, control / signaling circuit and metal cabin with capacity to accommodate batteries up to 22Ah, except 10-12Ah batteries.
It includes 10 status LEDs located on the front and 7 internal LEDs that expand the information about system failures.
It has 2 output circuits (2 x 1.10A), configurable to only one (1 x 2.2A), protected against short circuit by electronic fuses.
It consists of manual and automatic battery test, ground bypass supervision and system fault relay circuit.
Estimated delivery: 24h to 48h
Repair services and technical support
No worries: 15 days right of withdrawal
Secure transaction