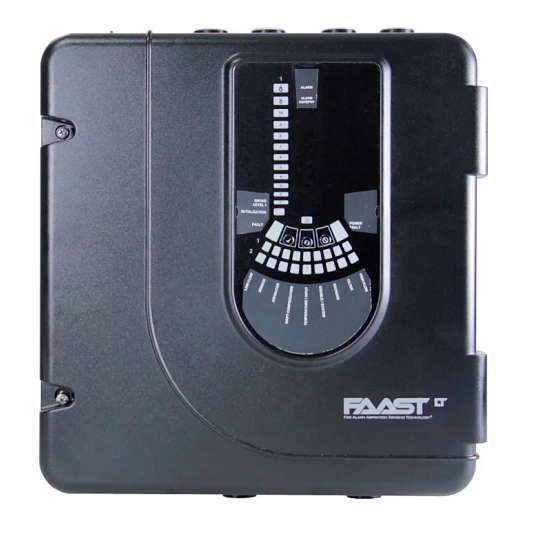 NOTIFIER-282 FL0122E-HS
Features

Supply and installation of FAAST-LT System of smoke analysis by aspiration of two channels / IP65, autonomous model FL0122E-HS. Does not require connection to the analog loop. It includes two high sensitivity point sensors for each channel with 9 alarm levels and pre-alarm. System information by means of a pendulum-shaped graphic bar with 9 air flow levels to verify that the air flows according to the requirements of EN54-20. Optical smoke detector with extremely high internal point sensitivity camera for each of the two channels that incorporates easily replaceable manual and automatic test functions.

Internal record of 2,244 events.
Principle of dust discrimination by AWACS ™ algorithms.
Includes easy access internal filter (FL-IF) and ultrasonic flow sensor.
Configuration via standard USB cable and PipeIQ LT software (included).
It has 2 sample pipe entries for each of the two channels Max. 50 meters each, in a single line of 100 meters and 160 meters in T with up to 18 holes per channel in class C, 6 in class B and 3 in class A.
Requires 24 Vdc power supply according to EN54-4.
Maximum current consumption: 360mA at 24 Vdc (without sirens) and is supplied with software justifying design and configuration PipeIQ LT.