Material on request, check delivery time
On request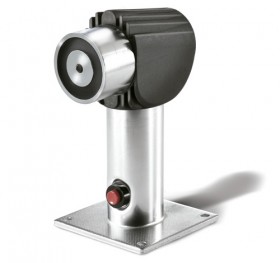 Wall retainer 960122 of 400N, with folding support at 90º (150mm) for floor or 180º (175mm) for wall

NOTIFIER-539

960122
Features

Wall retainer 960122 of 400N, with folding support at 90º (150mm) for floor or 180º (175mm) for wall.
Rotating head made of plastic reinforced with fiberglass and red release button.
The unit releases the door when the 24VDC voltage is no longer applied.
Includes protection and polarization diode and articulated ferromagnetic plate Ref. 960110.
Current consumption: 67mA at 24V (1.6W).
Strength: 400N
Door closer spring size: 3 to 5.
Degree of protection: IP42 (Coil IP54).
Weight: 1kg
Mounting: Floor or wall.
Dimensions: 90x80x (300/325) mm.
Specification: EN1155: 1997 and EN14637: 2008.