LED Bulb Aeotec Bulb 6 Multi-Colour (E27)
AEOTEC-003
ZWA002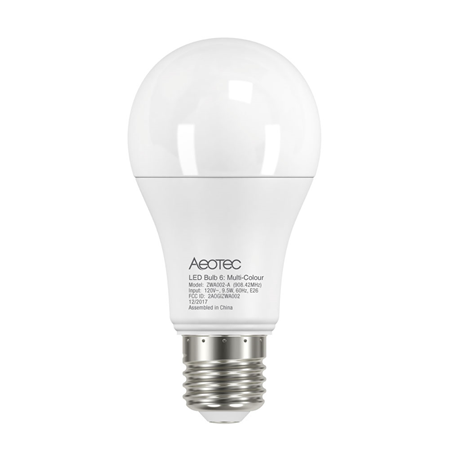 Aeotec Bulb 6 Multi-Colour LED Bulb (E27)
Z-Wave Plus Technology
Turns the light in your home into smart lights
Fits all E27 sockets
Can be connected to the Smart Home gateway via Z-Wave technology
Compatible with all VESTA panels (Z-Wave)
Allows you to vary the brightness and colour of the light via remote control, smartphone or tablet
Allows you to define a light ambience according to your wishes
Allows you to use scenes (e.g. in the case of an alarm) to activate a specific light colour. Offers 16 million dimmable colours
Very low energy consumption compared to conventional bulbs
As bright as a conventional 60W bulb, but consuming only 9.5W
The lifetime of up to 25,000 hours.
ESTIMATED DELIVERY: 1 TO 5 BUSINESS DAYS (DEPENDING ON THE COUNTRY)
Repair services and technical support
No worries: 15 days right of withdrawal
Secure transaction