DISCOVER THE NEW FEATURES OF OUR ONLINE STORE
Dear clients,
We inform you that we are still improving our website so you can enjoy a greater experience with By Demes, and increase your satisfaction. Therefore, we introduce you the next novelties in our online store:
You can buy now our kits, composed by various references, via our online store. The most special ones are the central PARADOX kits combined with the best intrusion brands such as DSC and VISONIC, PYRONIX and OPTEX*.

*Available brands according to market distribution agreement
PAYMENT VIA CREDIT CARD AND PAYPAL
Not only you can do your payments via bank transfer or usual credit conditions, but also we accept in a safe and confidential way credit/debit cards and PayPal payments, providing a safe and trusted solution at our online store.

You can now check the tracking of your shipments from "My Trackings" panel section. There you will have access to:
Shipment list with delivery note and tracking number, transport company and date of departure.
Copy option of No. tracking, through which you can follow your shipment details directly on the website of the transport company.

DELIVERY NOTE, INVOICES AND 347 MODEL
You can check, download and print all delivery notes or invoices from January 1st from "My invoices" panel. There you will have access to:
Search of delivery notes or invoices by reference
Classify by quarter, year, total or price range
View or download option
347 model download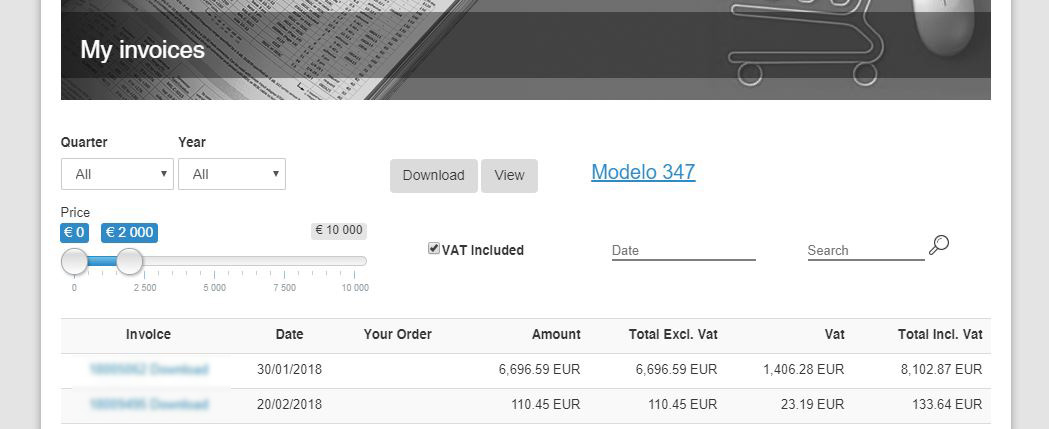 OPEN 24/7 , ANONYMITY AND PERMANENT STOCK
We remind you that with our online store:
You can make your orders anytime and anywhere
Maintain your anonymity by not contacting our sales assistants
+ 4.000 references in permanent stock
You will receive your delivery in 24/48 h

How to access our online store?
At www.bydemes.com you must log in with your online store access info at "Private Area" section with the client code "CLXXXXXX" as an user. If you still don't have an online store account (single and unique), contact with our Administration Department at enaccounts@bydemes.com.