Still haven't entered the universe of VESTA?
Much more than an alarm system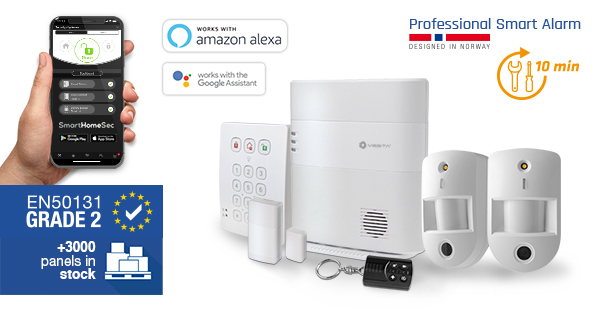 With a total of 160 wireless zones, VESTA panels offer a high level of security and fill many shortcomings of their competitors. The panel itself incorporates an internal siren and features the latest communication technologies.
VESTA also has one of the most complete range of devices, consisting of PIR radio detectors, dual technology and curtains for indoors and outdoors, as well as PIRCAM, for video verification via ARC (with connection to the mains software in Spain), additional keyboards and push buttons elements for emergencies.
Main features
Wireless devices with a range of 2 km

Exclusive F1 technology, for greater stability

Grade 2 certification

Ethernet, 2G or 4G connection and Wi-Fi possibility

Average programming of 10 min, to minimize costs in installation times

2 partitions and 2 types of arm per partition: TOTAL AND AT HOME

Integration with the best manufacturers of home automation and IoT devices through Z-Wave and ZigBee protocols

Integration with Alexa or Google Home, for arming via voice command, as well as controlling home automation devices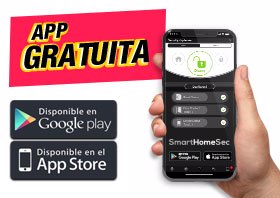 SmartHomeSec APP functions:
Instant alarm notifications with images

Request of images from PIRCAM detectors

Verificación de los eventos del panel

Arm the panel in remote

Geofence geolocation system, to mark the detection range (100 m and above) and create actions (such as arming or disarming) or creating reminders (such as turning on or off heating, hall lights, devices, etc.).

Aggregation of DAHUA cameras, by scanning the QR code, and real-time supervision via P2P

Control of smart devices

Secluded installer, for complete system configuration and panel management

VESTA-099
VESTA-099

2G VESTA KIT * COMPOSED OF:

1x IP Ethernet control unit + 2G home security with 160 wireless zones VESTA-046 (HSGW-G8-2G-F1-ZW)
1x Keyboard with proximity reader VESTA-012 (KPT-39N-F1)
2X Wireless PIRCAM detectors VESTA-008 (VST-862-F1)
1X Wireless magnetic contact VESTA-013 (MDC-3-F1)
1X 4 buttons keyfob VESTA-014 (RC-16-F1)

* Grade 2 certificate
Plus, take advantage of 2 months of free CSL connectivity!
With the purchase of the VESTA-099 kit, you will get 2 months free of any CSL connectivity plan through the card management platform SIM ALARM ( simalarm.eu ), the simplest and most intuitive on the market, which allows you to manage the registration and recurrence of your cards for your security and CCTV devices.
Features:
Security (Private APN and VPN)
Static IP
Professional M2M SIM
Flexibility and adapted rates
Packages from 1MB up to 500GB
Without advertising / restrictions
Global Roaming (OME, NOS and Vodafone, Movistar, Orange)
Advantages for the installer or sub-distributor:
Discount on the PVP
Up to 10% rewards
Card management: activation and deactivation, cancellation of subscriptions and verification of the activation status
Management of plans
PROMOTION CODE:EN310720
Sales prices to the public VAT not included. Offer valid until 4 september 2020
______________________________
Consult the conditions and discounts with our sales office.