We became ZKTeco Gold Partner thanks to the new distribution agreement

Dear customers,
We are pleased to announce the new Gold Distribution Partnership European agreement with ZKTeco Europe, the world's leading manufacturing company in biometric access control security, time & attendance and personnel management solutions.
On the new collaboration Ricard Rubí, Vice President of By Demes Group, expresses:
"With this new strategic agreement we hope to make ZKTeco one of our main business partners, expand the brand throughout Europe and position ourselves as leaders in access control, as one of the main goals of 2021. We firmly believe in its achievement thanks to our commercial activity throughout the continent, our more than 35 years of experience and our constant training, which provide us with extensive knowledge and high quality of service ".
To which, Fernando Ducay, CEO of ZKTeco Europe, adds:
"After years of successful collaboration in the Iberian market, we are pleased to announce that ZKTeco and By Demes Group are now strengthening and expanding their partnership to Europe. We hope that our partnership will inspire international integrators and enable By Demes Group to provide its clients with cutting-edge security, encouraging international integrators to test our contactless biometric technology for themselves and plan for future investments. "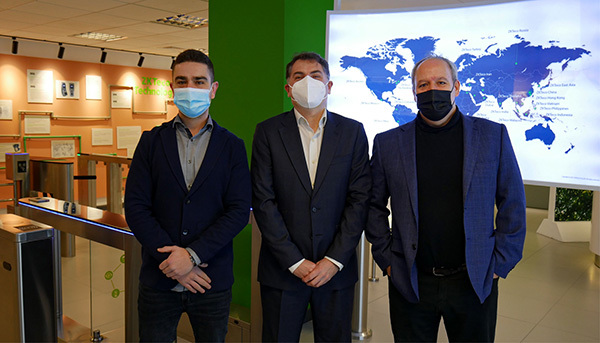 From left to right, Óscar López (Commercial Director of ZKTeco Europe), Ángel Bellón (Commercial Director Iberia of By Demes Group) and Fernando Ducay (CEO of ZKTeco Europe)
Many advantages of By Demes Group as a leading provider of security technologies
Thanks to the new distribution agreement with one of the pioneers in multibiometric and RFID technology, we further complete our catalog of advanced access control technologies, offering you even more options for your projects according to your needs.
You already have direct access to ZKTeco products and solutions with permanent stock, 24/7 availability thanks to our online store and the best possible technical-commercial service thanks to our more than 150 qualified employees and our experience of more than 35 years .
Contact our commercial department for more information and to inquire about discounts.