We continue with the best service and the largest permanent stock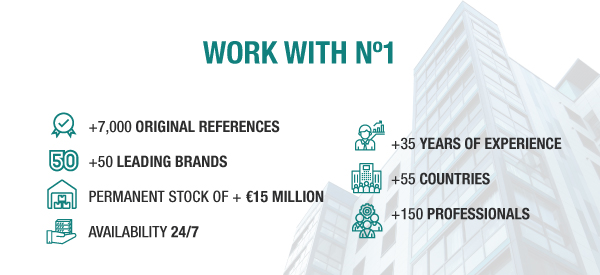 Dear customers,
After the publication of the annex of the BOE on the relationship of services and professional areas that are not subject to cessation of activity (BOE-S-2020-87), we inform you that By Demes is part of the companies that provide service to companies of private security and necessary for the performance of its security services to guarantee essential services and supply to the population.
In addition, By Demes also continues its activity by having distribution and delivery of products purchased in Internet commerce, thanks to our online store, open 24/7. Through it, you can place your orders and consult your information (repairs, trackings and invoicing) online, safely and with complete anonymity.
Thus, we continue working to guarantee the best provision of our services, with the advantages of the leading distributor of security technologies:
We will continue with the normal development of our activity, and our technical, commercial, administration and order departments will continue to attend to your requests and queries via telephone or e-mail.

We continue to telecommute in the positions that allow it and we continue to reinforce the cleaning and hygiene measures to take extreme precautions in the mandatory face-to-face positions, providing disinfectant gel, gloves and masks, increasing the distance between positions and establishing separate shifts.


We continue to ship our more than 7,000 original references, from more than 50 leading brands, in permanent stock (+ €15 million) and available 24/7, thanks to our online store.

Beyond our control, delivery times could be affected by the measures that concern all national and international companies.
Our team of more than 150 professionals thanks you for your understanding and will keep you informed about any news.

We admire and appreciate the great work of our health personnel to deal with the coronavirus and we send all our encouragement and strength to those affected.
We take this opportunity to send you a cordial greeting and thank you for placing your trust in our company.