Direct gift of a HYUNDAI technical kit for purchases over € 200 excluding VAT!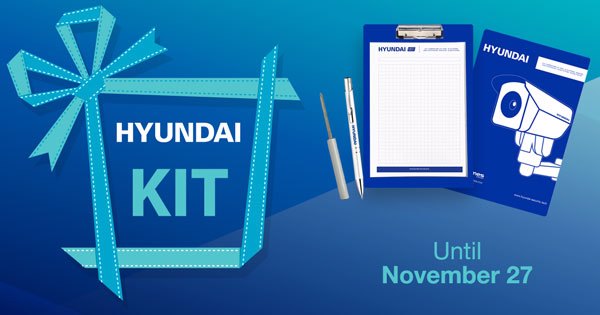 From HYUNDAI and By Demes we want to thank our customers for the great support and trust in these difficult times.
For this reason, we are giving you 1 technical kit for every purchase over € 200 excluding VAT on HYUNDAI products, between November 9 and 27. If, as a By Demes customer, you have made a HYUNDAI purchase greater than that amount during the specified dates, you can get the direct gift.
1 order + € 200 excl.VAT on HYUNDAI = 1 gift kit
WHAT DOES THE GIFT KIT CONTAIN?
1x Pen

1x Clipboard

1x A4 pad

1x Screwdriver


| | | |
| --- | --- | --- |
| 1 | 2 | 3 |
| BUY HYUNDAI | ENTER THE CODE | RECEIVE THE GIFT |
| Make a HYUNDAI purchase over € 200 excluding VAT between 9/11 and 27/11 | Give the promotional code (EN191120) to your sales assistant or in the comments of your on-line ORDER. | We will send you the technical kit together with your order, if it meets the conditions. |
CONDITIONS OF PARTICIPATION
To participate it will be essential to be a By Demes customer and have made one or more purchases of HYUNDAI products from € 200 without VAT.
The deadline for making purchases is November 27.
Each order of more than € 200 without VAT from HYUNDAI on the same invoice is equivalent to 1 gift kit.
Invoices are not cumulative. For example, if you buy € 100 without VAT on the same invoice and € 500 without VAT on another, you will not get 3 gift kits for having invoiced € 600 without VAT, but you will only get 1 gift kit for having exceeded € 200 in the second invoice.
In case of lack of stock of some of the materials of the gift kit, it would be replaced by another item.
PROMOTIONAL CODE: EN191120
Valid offer until November 27 2020 or end of stock
______________________________
Contact our sales department for more information.