Discover the new VESTA catalogue in pocket format
The intrusion of the future is already here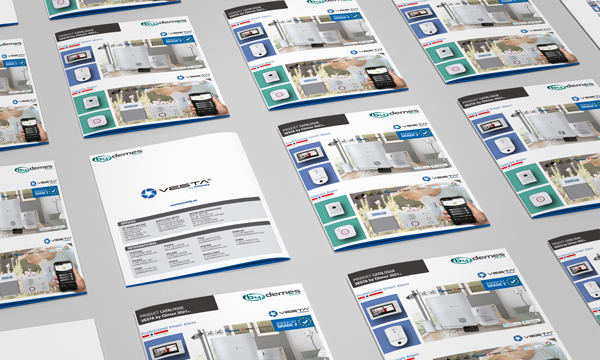 Dear customers,
The first edition of 2021 of the VESTA catalogue is now available in its most practical and functional format.
In its 32 pages, it collects the most outstanding devices and the different novelties that will make a difference in the intrusion market for the coming months. Some of the features that stand out:
Radio control panels with advanced automation functions that adapt to any installation
Standalone battery panels with 2G / 4G communications, for installations without electrical supply (anti-squatter floors, boats, second homes, etc.)

Grade 3 hybrid panels, ideal for large businesses or industrial facilities and with advanced automation functions.
Integration with SALTO locks, for remote control and programming of the door opening and closing.
Integration with DAHUA IP cameras, allowing up to 6 cameras per panel.
New video intercom via radio, allowing visualization and communication from the SmartHomeSec APP or touch keyboard.
More than 30 Z-WAVE PLUS devices to have in your VESTA system and integration with other manufacturers.
Control by voice assistants (Google Home and Alexa).
In a single free APP, for users and installers (SmartHomeSec): control of your security system, automation control, display of IP cameras, video doorbells, control of locks and reception of system events.
Medical panels, allowing the care of the elderly with the possibility of precise locations
Innovations of VESTA, a pioneering Taiwanese brand based in Norway, offers one of the most complete ranges of intrusion products with the latest communication technologies.
BROCHURES AND VIDEOS
Contact our commercial department for more information and to inquire about discounts.